Ride The Rails, Taste the Treats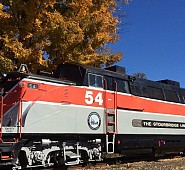 Today we travel into Northeastern Pennsylvania for a day of wonderful food, beautiful scenery, and lasting memories.
First we travel to The Settlers Inn in Hawley, PA for a family style lunch of grilled beef sirloin, cider-glazed roast pork loin, herbed yukon gold potato salad, corn and tomato salad with cucumbers, olives, and feta , and fruit salad. Coffee, tea, water, soda, and dessert are also included. The Settlers Inn has hosted tourists and locals for over 40 years and their farm-to-table restaraunt has won many awards.
After a delightful lunch, we board the bus and head for Honesdale, PA, for a beatiful scenic train ride aboard the Stourbridge Line through the northern Pocono region. There will be a live narration to bring the area's history and scenic charm to life. Be sure to keep an eye out for a bald eagle or two!
Trip Details
Departing Aug 4, 2021
Returning Aug 4, 2021
Single Price: $135.00
Trip Type: One Day ToursDeparture Date: Aug 4, 2021Return Date: Aug 4, 2021
This trip has been sold out. Please call our office at (607) 257-2660 to check for up-to-date availability or to be placed on a waiting list.
Choose a Trip Date/Time