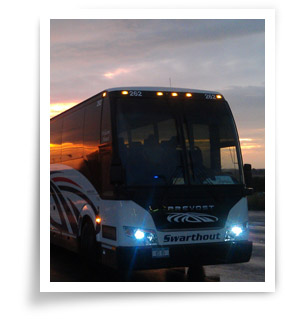 Swarthout Coaches, Inc. began its life as Swarthout & Ferris. In 1950 a partnership between Robert Swarthout and Spencer Ferris started. First as a Texaco gas station then school bus service in the Fall Creek area of Ithaca, NY
Swarthout & Ferris remained in the Fall Creek area providing school bus service, limited charter service, and a full service Texaco gas station until 1960.
The operation was then moved to the present location of 115 Graham Road. The gas station was discontinued to allow more attention to be paid to the school bus and charter bus operations. Steady improvements were made in both areas of the company. In 1974, the company discontinued the school bus operations and concentrated entirely on charters. In 1979, Rob Swarthout joined the company learning all the facets of the business. In 1987, Spencer Ferris retired and sold his share of the bus company to the current owner, Rob Swarthout.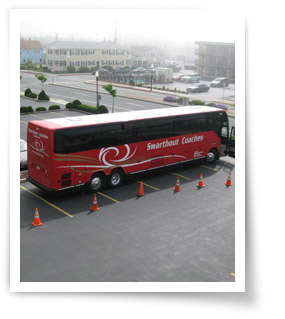 In the early 1980's the company began operating tours in addition to the charter service. In 1994, Robert Swarthout passed away, leaving his son, Rob Swarthout, the remainder of the company. At that time the company name was changed to Swarthout Coaches, Inc.
Today, Swarthout Coaches, Inc. operates a fleet of twelve (12) coaches that provide tour and charter service for the central New York area.