Ride the Rails, Taste the Treats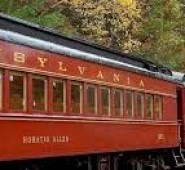 Today we travel to Honesdale PA, in the heart of the Pocono Mountains. Our first stop will be at Tick-Tocks Restaurant for a wonderful lunch, which is included with your tour cost. Please note that menu selections as outlined below will need to be made when you make your reservations.
After lunch we will enjoy a narrated train ride along the Laxawaxen River where we may spot a bald eagle or two. Live narration will cover the history and scenic highlights of the region.
After the train ride, we will head to Moka Origins, where coffee and cocoa beans are turned into tasty treats. Our tour will include production areas, video presentation, and tasting of samples.
Lunch selections include (please indicate choices in "Order Notes" area of reservation form:
Option 1 - Stuffed Chicken Breast with maple sage glaze over roasted garlic mashed potatoes
Option 2 - Grilled Salmon Filet with chive hollandaise sauce over Isreal couscous pilaf.
Option 3 - Vegetarian option (chef's choice)
Trip Details
Departing Aug 5, 2020
Returning Aug 5, 2020
Single Price: $123.00
Trip Type: One Day ToursDeparture Date: Aug 5, 2020Return Date: Aug 5, 2020
Choose a Trip Date/Time